If you use charts from Navtor, with the Navstick service,TECDIS offers a quick chart installation from the S63 Chart Loader.
Before you begin - acquire Cell Permits:
Installation of charts with S63 Chart Loader requires Cell Permits for licensing. Cell Permits are received from you rchart provider. For your chart provider to give you correct cell Permits you have to prepare and send your unique User Permit to your provider. The procedure for preparing and sending User Permits can befound in the cha 6.1.4: Create the User Permit file (see page116) create user permit.
The procedure for installation is as follows:
Inside TECDIS:
1.Open the settings menu inTECDIS
2.Select the Setup tab
3.In the Chart Utilities drop down list, select Load Charts
In the separate S63 Chart Loader program:
1.Insert a TECDIS Service Key in an available usb port inthe TECDIS unit.
2.Wait until the Service mode label appears in the bottom right corner of the chart view, and then you exit the TECDIS program.
3.Start the S63 Chart Loader program.
1.Insert Navtor Navstick in the TECDIS unit.
2.Navigate the file structure until you find and select Navstick.
Chapter6: Chart installation and maintenance

3. The system automatically recognizes Navtor Navstick. Press the LOAD PERMITS AND CHARTS buttonto start loading cell permits and charts into TECDIS.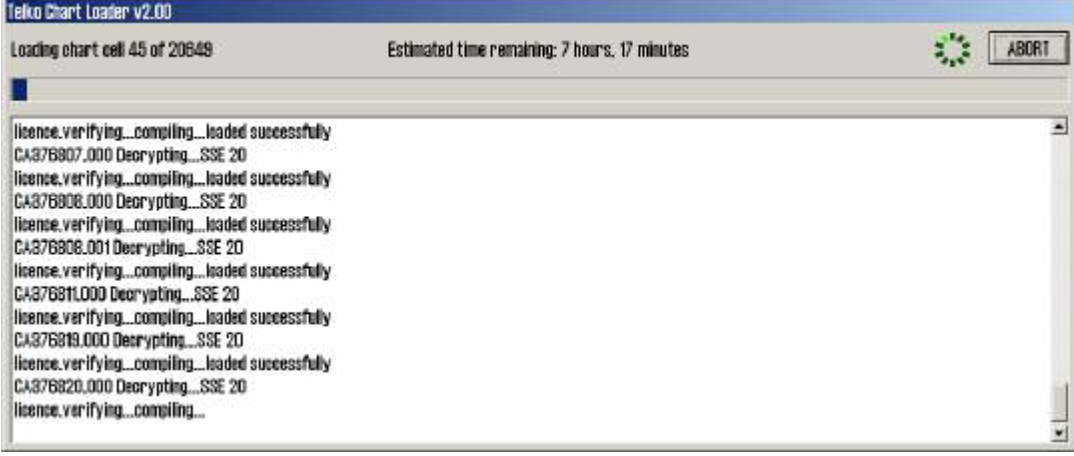 4. The cell permits and charts are now loaded, and a progress window appears. You can abort the loading at any time by pressing the ABORT button in the top right corner. In the progress window information about the chart cells that are loaded is displayed.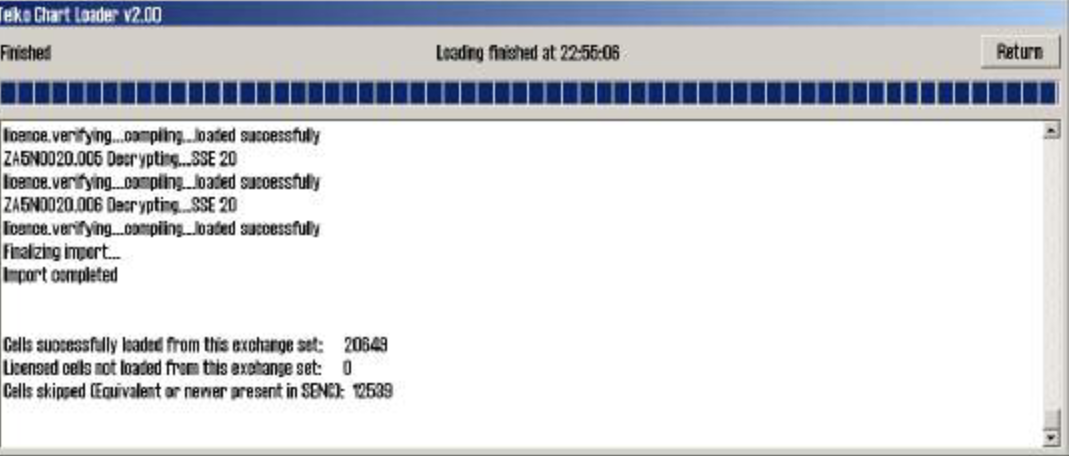 5. When the chart loading is complete, Impor tComplete is displayed in the progress window. The window will also display loading details. The chart loading process is finished by pressing the Return button.
6.Press the Show README.txt button to read the release notes for the chart.
7.The loaded charts are now available in TECDIS in a separate chart database.
Note: The chart loading log has to be inspected when chart loading is finished.
The log contains details of all error messages and warnings. Read more in the next chapter.